Those Snowy Peaks Have Us Thinking…
If you visit the Wasatch Front for snow-related activities, or, if you have simply lived in Salt Lake for more than a minute, then you have almost certainly experienced the intense traffic that often occurs in our area's iconic mountain canyons.
The "worst" days see over a thousand vehicles in Little Cottonwood alone, but this level is becoming the new normal. We had more than 30 of these extra-congested days during 2020 alone.
As you also probably know, Utah's Governor Spencer Cox, UDOT, and other parties are currently entertaining the possibility of a new gondola, bus, or train system to (potentially) alleviate our winter traffic woes. Governor Cox has signaled that he supports the gondola, claiming that it would be cheaper than a train (if more expensive than the bus solution). Salt Lake City currently has $50 million earmarked towards such a future project, but this amount is clearly just the starting point, regardless of which avenue is pursued. The final project will undoubtedly be much, much more expensive.
Although our total snowfall has decreased since 2013, traffic on the roads to and at the ski resorts has risen.
As our state continues to grow and develop at a rate faster than almost any other, the problem of our clogged canyons will likely expand in real time. (Many of us know how much worse things have gotten in the mountains just since 2010, a mere moment in time!). And climate change won't ironically save us here. The skiing probably won't be very good in Utah in 2100, but, in the shorter term, we know that a modestly lower snowpack does not lead to fewer people in the canyons. An environmental impact statement, focused on Little Cottonwood Canyon, confirmed that, although our total snowfall has decreased since 2013, traffic on the roads to and at the ski resorts has risen. Utah's current population trend, coupled with an increase in tourism — wait 'til international skiers return! — will clearly further worsen our traffic and degrade our natural environment and our enjoyment of it.
This is a tough issue, to be sure. Many other very environmentally minded people turn a blind eye when it comes to their carbon footprint of skiing. And who can blame them — enjoying the mountains is one of the main reasons many of us live here! Moreover, it is possible to find pro-environmental arguments for a gondola up the canyons, if it gets people out of their cars. On the other hand, we all know that we are loving our mountains to death, and that the current model is not sustainable, even with an expensive tweak.
We at UPEC feel that a solution to this problem must strike the appropriate balance between maintaining our quality of life and protecting the environment. Thus, we expect transparent and careful consideration of environmental impacts by the many stakeholders here (and especially by Governor Cox, UDOT, and the Central Wasatch Commission). In the meantime, rather than staying in limbo waiting for a dramatic canyons project, individuals, business, and local governments need to do a lot more to cut back our fossil fuel use. For example, we all need to prioritize carpooling. A few ski mountains have started giving priority parking to large groups, but they all should be doing so — and much more. For example, resorts should pay skiers cash directly for taking the bus up the canyon.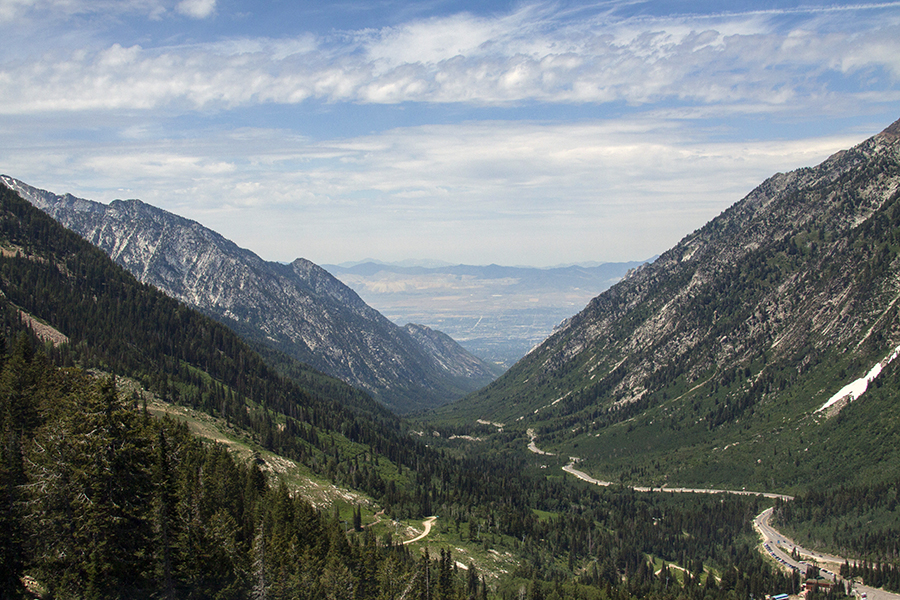 And we recommend even more significant measures.
We should demand that experts determine the human carrying capacity for various canyons for each month of the year (such a metric would be based on environmental impacts as well as the quality of the experience). Once the carrying capacity is reached on a particular day, no more people would be allowed in the canyon. It's easy enough to have gate/toll booths at the mouth of Little and Big Cottonwood Canyons to monitor this carrying capacity and to charge private vehicles (as the Forest Service does in in Millcreek Canyon). Ultimately, we may all have to give up the cult of the two-hour drive on powder days and reserve our ski days well in advance …
We at UPEC obviously approach these issues through the prism of population. However, please keep in mind that we have an "E" in our name, for "Environment." It's hard to disentangle population and environmental issues, which is why we started this group in the first place (given than most environmental groups ignore population). Whether it's water consumption of traffic in Little Cottonwood Canyon, myriad factors interact and simultaneously interact with population growth. So, while we are open to environmentally wise solutions to the problem of congestion in our canyons, we also hope you will encourage your friends to think about this issue more holistically.
Happy Halloween everyone! 🎃